Chiropractor Daniel Eoriatti D.C.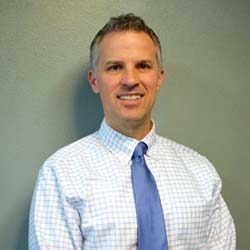 Doctor Daniel Eoriatti is a chiropractor at West Salem Chiropractic in West Salem, WI. He grew up the oldest of 6 children on a pig farm in Iowa. He was introduced to chiropractic care at a very early age. Farm work took its toll on the body. Dr. Eoriatti found out that chiropractic care was extremely helpful in getting him feeling better and then keeping him healthy to continue doing the farm work and sports activities throughout his youth.
Dr. Eoriatti attended undergraduate school at Loras College in Dubuque, IA. He received his Bachelor of Science Degree and Doctor of Chiropractic Degree from Palmer College of Chiropractic in Davenport, IA in 1997. Dr. Eoriatti has been in practice helping patients in the area ever since.
Over the years, Dr. Eoriatti has seen the benefit and value of chiropractic care and the benefit of what it can do for people. Dr. Eoriatti treats each patient as an individual not as a number. That is why he schedules his patients on 15 minute blocks to allow enough time to properly take care of everything that needs to be addressed at your appointment.
In utilizing the Gonstead Technique, Dr. Eoriatti takes the time to assess the spine very carefully each and every visit to notice any subtle changes that may require him to alter the adjustment specifics such as the level adjusted and the direction of the adjustment. In other words, Dr. Eoriatti's goal is to give you the most specific adjustment possible at your visit to ensure that you get better faster and stay better.
Dr. Eoriatti understands that today's insurance coverage does not always cover much of your chiropractic care so he offers affordable price options for all visit types. Ask how adults can get visits for as little as $30 per visit and children for $25 per visit.
OFFICE HOURS
---
Monday
7:30am - 12:00pm
1:30pm - 5:30pm
---
Tuesday
3:00pm - 6:30pm
---
Wednesday
8:00am - 12:00pm
1:30pm - 5:30pm
---
Thursday
3:00pm - 6:30pm
---
Friday
9:00am - 12:00pm
1:30pm - 4:00pm
---
Saturday & Sunday
Closed